Manipura Circus Arts School
Aerial silks, Aerial hoop, AcroYoga, Pole dance, Aerial Yoga, Aerial fitness, Hula Hoop dance, flexibility, Yoga, handstands, Pilates, dance, circus acrobatics classes, retreats and festivals for adults and children in Corralejo, Fuerteventura
What happens when artists' souls, who have left their homeland out of "wanderlust" and could not be more different, share a fascination for movement and creation? They settle in the Canary Islands, the sunny side of the planet and live their passion for acrobatics and dance high up in the air. The perfect place on the Atlantic, where strong winds blow, has only missed one thing: a common space for the circus disciplines. This is how the Manipura Circus Arts School in Fuerteventura was born. The curiosity to learn more, to share our practice and approach to community building brought us together. We literally dropped into each other's classes while mobilizing people join the circus culture. Manipura tells the story of friendship and a shared journey of creative spirits who enjoy using their bodies in different ways to fly, flow and grow. Our team is equipped with supportive hands, open hearts, strong legs to lift people, dancing hips, flexible joints, the head upside down, communicative mouths and pointed toes.
We all have the ability to dance in the air, fly light and spin gracefully. Our Acroyoga partner, Aerial silks, Aerial hoop or Pole are just devices that will lift you up and lend you the reliable wings to move in higher spheres. Let the journey of weightlessness, self-confidence and trust begin.
We are all circus and there is an artist in all of us. Time to explore the magic and open the space for expressing creativity. We dedicate importance to learning by playing and developing skills in a safe setting. With teaching handstands, Hula Hoop, Aerial and floor acrobatics and flexibility we convince all children that they can be everything they want to be.
For every circus discipline we need a strong, agile body and calm breath. Our flexibility, Pilates, Yoga, fitness and handstand classes will provide us with these tools. Relaxation and rest are an important element of movement. Therapeutic methods of listening, caring and giving back are essential to replenish energy, calm down and connect with the mind.
We organize exciting active holidays for visitors and teach regular weekly courses and host open trainings for residents to immerse themselves deeply in circus arts. We train, teach and perform in Aerial silks, Aerial hoop, Acroyoga, Pole dance, Aerial Yoga, Aerial fitness, Hula Hoop dance, flexibility, Yoga, handstands, Pilates, dance, circus acrobatics. The reason why we combine circus disciplines and acrobatics with dance, conditioning and restoration is that it is all about expression, mindfulness, strength, flexibility, self-confidence and balance, whether it is about a partner, silks, hoop, hammock or just your own body, mind, heart and breath. What counts is the strong connection to the environment and people, such as the fascination of movement in different elements. Our recipe is the love for stage design, unique training and multidisciplinary methods such as advanced safety and spotting techniques.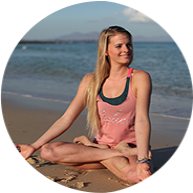 JOHANNA
Founder.
Acroyoga, Aerial silks
Yoga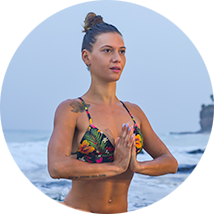 LAURE
Founder
Pole dance, Flexibility, Aerial hoop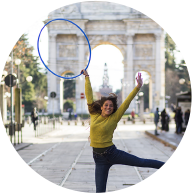 LEDA
Hula Hoop &
Circus for kids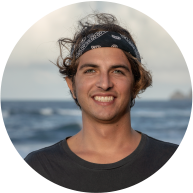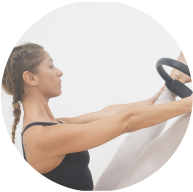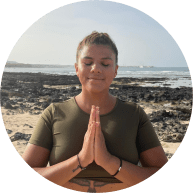 DIANA
Dance, Circus for
kids & Yoga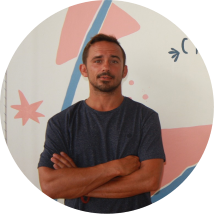 MARTIN
Trapeze & Therapeutic Movement